Training Solutions for Aviation Training Professionals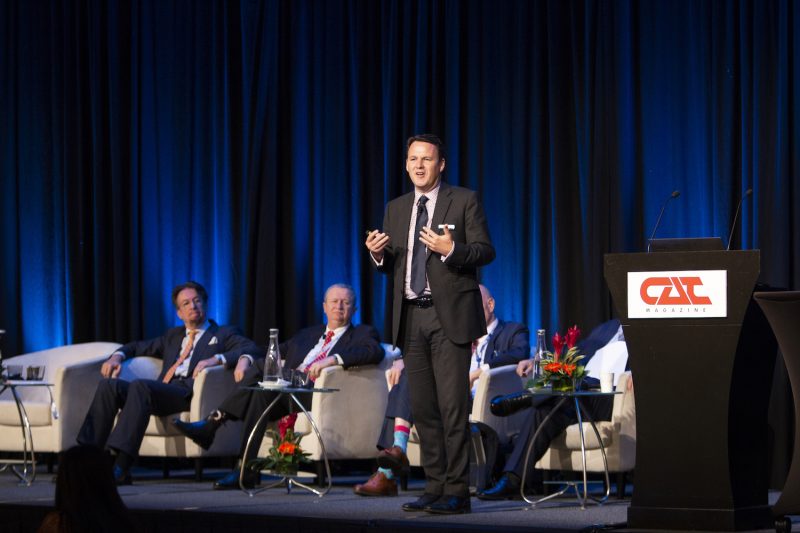 APATS is entirely dedicated to airline simulation and training, allowing you to discover the latest innovative training solutions for pilots, cabin crew and maintenance technicians. Supported by the training industry and subject matter experts, the APATS 2023 conference will provide practical solutions for your day to day challenges and offer key insights into the future of the industry.
Presentations and moderated discussions led by industry and airline experts will allow the airline training community to share best practice, lessons learned and the challenges of recovery and return to growth.
APATS Conference Chair: Captain Jacques Drappier
To find out more about the APATS Pilot Conference speakers, and what they will be talking about during their presentation, just click on their name.
Day 1 – Tuesday 29th August 2023
0915-1030: Session 1 – Opening Remarks (all streams)
1) Blair Cowles, Asia-Pacific Regional Director, IATA
Industry Outlook
2) Subhas Menon, Director General, Association of Asia Pacific Airlines (AAPA)
Outlook for Asia Pacific
3) Captain Jean-Michel Bigarré, Founder & President, Aircraft Manufacturer Flight Training Association (AMFTA)
Progress Report: The Aircraft Manufacturer Flight Training Association (AMFTA)
1030-1115: Coffee Break
1115-1245: Session 2 – CBTA
1) Captain Chris Ranganathan, Chief Learning Officer, Civil Aviation Training, CAE
Transforming CAE into a CBTA Organisation
2) Christine Bohl, Director, Sales, Marketing & Business Development, Boeing Global Services – Commercial Training
CBTA in Flight Training
3) Tony Shen, President, Wayman Aviation Academy
CBTA in Ab Initio
1245-1415: Lunch
1415-1545: Session 3 – EBT
1) Captain Mike Varney, CEO, Salient
Development of Competency – The Total Systems Approach
2) Captain Ping Lee, Chief Pilot, EVA Air
EBT and IBT: An Intriguing Discovery
3) Vin Parker, Director of Learning and Development, Flight Operations Training, Republic Airways
AQP/EBT/CBTA: Stay Focused on What Matters
1545-1630: Coffee Break
1630-1800: Session 4 – Ab Initio
1) Maddy Johnson, Chair, Australian Flight Training Industry Association (AFTIA)
Review of Difficulties in Ab Initio in Asia Pacific
2) Dr. Tarryn Kille, Associate Professor, Program Director & Discipline Lead (Aviation & Logistics), University of Southern Queensland
Building the Capabilities of Future Airline Pilots Through Tertiary Education
3) Paul BJ Ransbury, CEO, Aviation Performance Solutions (APS)
Effective Next Gen Flight School Upset Training
1800-1900: Networking Reception (in Exhibition Hall)
Day 2 – Wednesday 30th August 2023
0900-1030: Session 5 – Airline Training Issues
1) Shane Tobin, CEO/Director/Senior Instructor, UPRT Australia
Reflexive Responses in High Threat Scenarios
2) Trang Dao, MD, Consultant, Aviation Psychiatry
Training Aviation Professionals in Detection & Management of Mental Unfitness
3) Norman MacLeod, Consultant, Astrom Training
Instructor Standardisation
1030-1115: Coffee Break
1115-1245: Session 6 – Ensuring the Pipeline
1) Aleksandra Kapela, Associate Aviation Psychologist, Symbiotics
How Aviation Psychology and Virtual Reality Technologies Can Work Together to Improve Pilot Assessments
2) Captain Philip Adrian, CEO, MPS
Training the Next Generation Through Next Generation Training
3) Captain Jyoti Gayan, Chief Theoretical Knowledge Instructor, Qatar Aeronautical Academy
Sustainable Evidence Based Learning & Instructing
1245-1415: Lunch
1415-1545: Session 7 – Human Factors
1) Fatah Hashim, Digital Learning Manager, Asia Digital Engineering (ADE)
Elevating Digital Learning: The Future of Aviation Training
2) Dr. Seamus Phan, Principal Consultant, FlightLeaders (division of McGallen & Bolden Group)
Pilot and Leadership Transformation in the Time of AI
3) Chris Smith, Trust Ambassador, Jetstar Airways / Senior Lecturer, University of Southern Queensland
Aviation Mental Health: How to Embed a New 'Situational Awareness' into our Aviation Culture
1545-1630: Coffee Break
1630-1800: Session 8 – Technology Assisting Training (all streams)
1) Denis Manson, Aviation Consultant, Ten Hammers
New Generation English Language Training for Aviation
2) Nacho Navacerrada, Sales Director, Entrol Simulators
Correct Use of XR Technologies in Aircraft Simulation Industry
3) Shane Carroll, Head of Training Software COC, Airbus & Christian Delmas, Head of Airbus Worldwide Maintenance Training
Implementing XR-Enabled Solutions in Training
APATS 2023 Sponsors & Partners