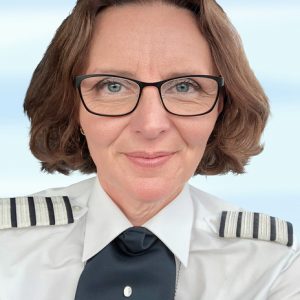 Helen Heenan, KURA Human Factors
Helen was educated at The Ladies' College in Guernsey, and obtained her commercial pilot's licence from the Cabair College of Air Training in January 1999. In May of that year she joined Jersey European Airways, the airline that later on became Flybe.
Following 7 years as a First Officer on the Dash 8 and BAe146, she gained her command on the Q400 in 2006, and in 2007 she joined the CRM team as an instructor delivering recurrent CRM training to flight deck and cabin crew. Returning from a maternity break in 2013, she then began delivering the more comprehensive Initial Operator's CRM training for both Flight Crew and Cabin Crew.
In 2016 she was appointed the Head of the CRM training department. In this role Helen led, trained and managed a team of 12, and was responsible for the creation and delivery of all the initial and recurrent courseware for the company's 1700 aircrew, many of whom were new recruits to commercial aviation. She was invited to sit on the company Training Policy Group to ensure that course materials were responding to identified training needs.
Her work has been acknowledged by the UK CAA as 'The most engaged class observed for a very long time', and from external clients as 'The best delivery of CRM I've ever seen'.
Helen remained at Flybe for over 20 years, until March 2020 when she was made redundant following the sudden collapse of the regional airline.
She now works as an independent training consultant, specialising in all aspects of CRM training, and the Application of CRM/Human Factors Principles in other safety critical industries.
Skill Fade During the Pandemic – What Skills, and Why Do They Fade?
Skill fade has been a hot topic in the aviation industry throughout the global pandemic. Concerns over pilot's currency and subsequent ability to operate the aircraft to necessary safety and operational standards pose a credible risk to any organisation.
But, what skills are we seeing that have degraded? And, why?
If we can answer that, then perhaps we can put in training programmes and threat mitigations at systemic level to manage them.
In this session we will look at the anecdotal evidence from operators and ATOs, that in fact the psychomotor skills of flying return very quickly. Metaphorically, 'You never forget how to ride a bike."
But, the reduced cognitive capacity of pilots is of notable interest. Put simply, they 'max out' far more quickly than prior to the pandemic. Decision making, problem solving, situation assessment, spatial awareness, and ultimately managing workload are the competencies that have been the area of significant challenge for those returning from a long period of down time.
We will therefore look at suggestions as to why this is happening, from first hand experience of pilots having previously having had long term absence from the flight deck, to looking at the science behind our human information processing systems.
Most importantly however, we will look at how we, as operators, can address these findings.
By using baseline Threat and Error Management strategies, and looking at analytical approaches to workload prediction during predetermined sequences such as on final approach, we can reduce the cognitive demands on working memory, and free up capacity for our crews at critical phases of flight.