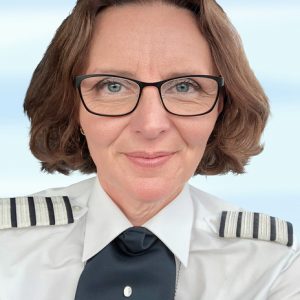 Helen Heenan, KURA Human Factors
Helen was educated at The Ladies' College in Guernsey, and obtained her commercial pilot's licence from the Cabair College of Air Training in January 1999. In May of that year she joined Jersey European Airways, the airline that later on became Flybe.
Following 7 years as a First Officer on the Dash 8 and BAe146, she gained her command on the Q400 in 2006, and in 2007 she joined the CRM team as an instructor delivering recurrent CRM training to flight deck and cabin crew. Returning from a maternity break in 2013, she then began delivering the more comprehensive Initial Operator's CRM training for both Flight Crew and Cabin Crew.
In 2016 she was appointed the Head of the CRM training department. In this role Helen led, trained and managed a team of 12, and was responsible for the creation and delivery of all the initial and recurrent courseware for the company's 1700 aircrew, many of whom were new recruits to commercial aviation. She was invited to sit on the company Training Policy Group to ensure that course materials were responding to identified training needs.
Her work has been acknowledged by the UK CAA as 'The most engaged class observed for a very long time', and from external clients as 'The best delivery of CRM I've ever seen'.
Helen remained at Flybe for over 20 years, until March 2020 when she was made redundant following the sudden collapse of the regional airline.
She now works as an independent training consultant, specialising in all aspects of CRM training, and the Application of CRM/Human Factors Principles in other safety critical industries.