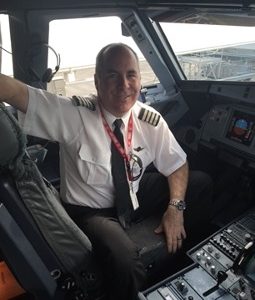 James "Jimmy" Mitchell, EBT Program Manager, Jetstar Airways
Jimmy started his flying career at Moorabbin Airport just outside of Melbourne where he became a Grade One Flying Instructor, specialising in Instructor Training. He then spent a few years flying RPT and Charters around the mountains of Papua New Guinea, where he was involved in Training and Checking and held the position of Deputy Chief Pilot.
Moving back to Australia in 1998, he has flown with the various iterations of airlines that eventually morphed into Jetstar Airways, which is a part of the Qantas Group. During this time he has been heavily involved in Training and Checking on the B1900, B717 and A320 Fleets.
In 2015, Jimmy completed his Master's Degree in Aviation Management, where his thesis paper was written on EBT. He then led the implementation of EBT into the Jetstar Group of Airlines and currently holds the positions of EBT Program Manager and Check Pilot Accreditor.
Jimmy joined the Salient team in 2019 as the Director responsible for Airline Consultancy Support to help guide other Airlines in the successful implementation of EBT. Recently, in conjunction with Salient, has adopted the EBT philosophies for Cabin Crew to conduct EBT style Line Checks with the system to go live in October.
Adapting EBT for Cabin Crew
After a very successful implementation of EBT into the Pilot world at Jetstar, we wanted to replicate that success by applying the same EBT style to our Cabin Crew Line Checks. During the presentation we will talk about the current state of our Line Checks which predominantly focus on technical skills, are very task orientated with direct instructor questioning. With the implementation of EBT we will introduce a greater focus on non-technical skills, it's competency based and a greater time spent on having meaningful discussions where crews can learn from each other in how to handle different situations.
One of the areas that we felt required modification from the original Flight Crew programme was looking at the Competency Framework, obviously Flight Path Management Automation and Flight Path Management Manual aren't relevant for Cabin Crew, so we engaged our stakeholders and by gap analysis came up with two additional Competencies.
We also look specifically at one of our activities to demonstrate Resilience and the importance of dealing with unforeseen circumstances and working through problems as a team using the competencies as tools to achieve the objective. Finally, we emphasise the benefits and the crucial role the Facilitated Debrief takes in delivering effective learning particularly focusing on the process used to achieve a result. This is something very new to our Cabin Crew but such a vital cog in the training and development attributes of EBT.
Please join us for the presentation and feel free to ask questions about Jetstar's EBT implementation for Cabin Crew in the Cabin Crew Breakout Panel afterwards.